Emergency First Aid at Work
This one day Emergency First Aid at Work (RQF) qualification will help learners meet regulatory requirements and to become an emergency first aider in their place of work.
Duration: 1 Day
Cost: £0 Per Person
Location:
Book Now
Overview
QA Level 3 Emergency First Aid at Work
The QA Level 3 Award in Emergency First Aid at Work (RQF) is a one day course. The qualification is designed for individuals who wish to act as an emergency first aider in their workplace.
Course price depends upon number of staff and candidates and we can work to your training budgets.
Upon successful completion of this qualification, candidates will be equipped with the essential skills needed to give safe, prompt and effective first aid in emergency situations.
This course is ideal for nominated first aiders who work in smaller offices, in low risk environments.
The Health and Safety (First Aid) Regulations 1981 require all employers to make arrangements to ensure their employees receive immediate attention if they are injured or taken ill at work. This includes carrying out a risk assessment, appointing a suitable amount of first aiders and providing appropriate first aid training. However, having the correct first aid provision in the workplace is not just a legal requirement, it is incredibly important for the safety of all members of staff.
What's Covered
The roles and responsibilities of an emergency first aider
Assessing an incident
Managing an unresponsive casualty
CPR and defibrillation
Recovery position
Choking
Seizures
Shock
Wounds
Bleeding & much more...
As a prerequisite learners need to meet the Level 2 definition of English Language.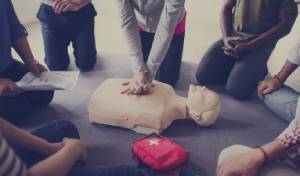 Dates Available
To secure your place on one of our courses we require a 25% deposit which will be taken at the time of booking. Once this is received you will be invoiced for the balance which must be paid at least 10 days before the course date.
We currently have no course dates booked at this time, you can still contact us to enquire when the next date will be or check back here soon.