First Response Emergency Care - FREC Level 3
FREC Level 3 is a QA prehospital emergency care course that's now gold industry standard for those working in high risk environments such as the emergency services or in hostile environments.
Duration: 5 Days
Cost: £385 Per Person
Location: Muiry Hill Farm
Book Now
Overview
QA FIRST RESPONSE EMERGENCY CARE - FREC LEVEL 3 (RQF)
The 5-day QA FREC LEVEL 3 provides the emergency responder with up-to-date knowledge & an enhanced level of medical capability to deal with a casualty as a first responder in a medical emergency.
Our experienced trainers transfer their knowledge of trauma management and casualty stabilisation by using scenario based training where learners can get hands on and learn by experience. We use live casualties and simulation to take learners straight to the heart of the action.
FREC LEVEL 3 is endorsed by The Faculty of Pre-Hospital Care - The
 Royal College of Surgeons of Edinburgh, and fulfills the competencies set out in the PHEM skills framework at descriptor level D.
At our adaptive and spacious training site we can emulate different environments for our learners or we can bring the training to you; we work both nationally and internationally.
We only use training personnel with medical & hostile backgrounds to deliver this course - all of whom have had extensive careers working on the front line of real life emergencies in some of the world's most challenging environments.
The FREC Level 3 is ideal for those working in: emergency services, close protection, private & hostile security, events sector and what's more it meets all the requirements for the Security Industry Authority (SIA) Licence.

Soteria Risk Training promises:
Enthusiastic medical highly skilled instructors with good student to trainer ratios.
Courses based heavily upon scenario-based training.
"Learner" family group for help with CPD
3 Year QA certificate (meets SIA license requirements)
This course covers all of the competencies required for certification as well as training in tactical medical support and a systematic approach to the management of trauma.
The syllabus includes:
Patient assessment
Trauma management
Manage catastrophic bleeding
Assess and manage the patients airway
Administer emergency oxygen
Manage a patient with injuries to bones, muscles and joints
Adult Basic Life Support and AED training
Environmental Emergencies
Minor illness and injury
Medical emergencies
Triage
Casualty evacuation
Scenario-based practical skills training interventions
Entry requirements: Learners must be at least 17 years old on the first day of the training. Learners have a minimum of Level 2 in literacy and numeracy or equivalent and a basic understanding of first aid.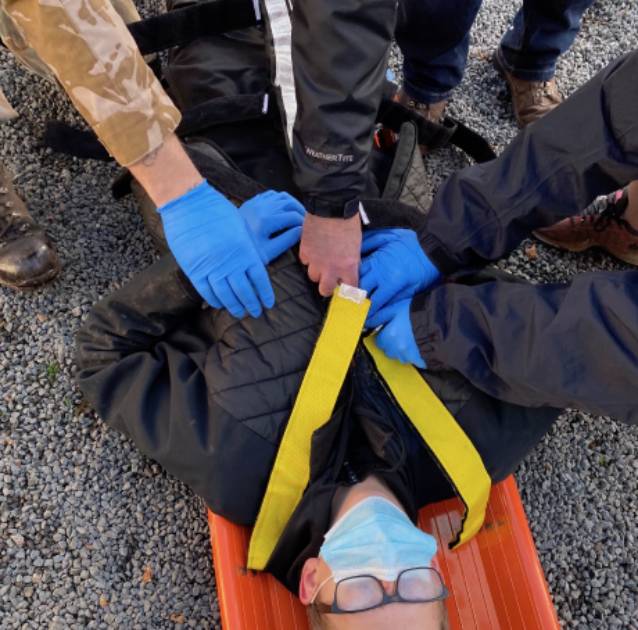 Dates Available
To secure your place on one of our courses we require a 25% deposit which will be taken at the time of booking. Once this is received you will be invoiced for the balance which must be paid at least 10 days before the course date.
We currently have no course dates booked at this time, you can still contact us to enquire when the next date will be or check back here soon.